Inside Passage to Arctic Circle: Cruise Alaska for a month with this epic new itinerary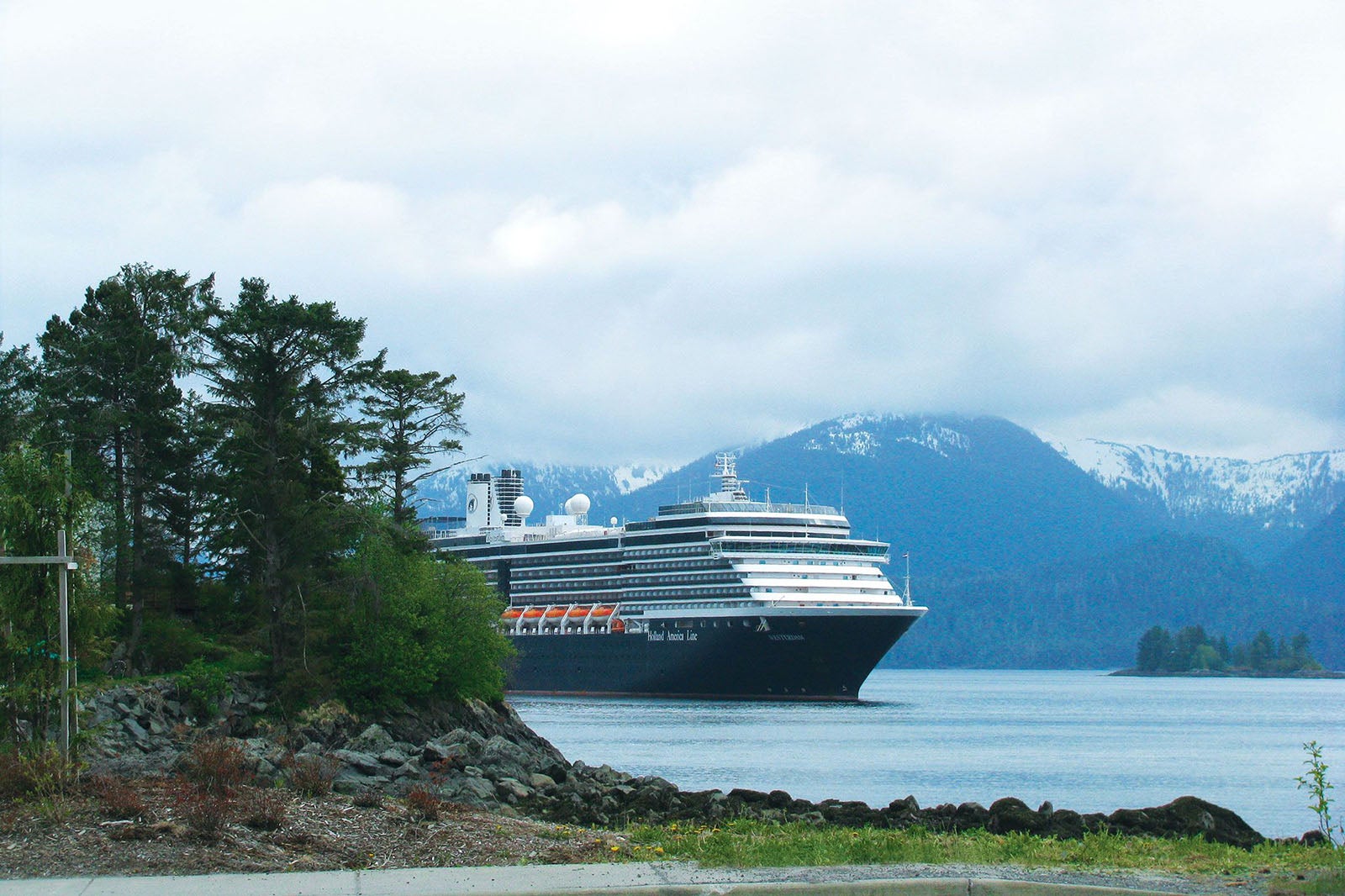 It just might be the most epic Alaska cruise ever.
Holland America on Tuesday unveiled plans for an unusually long voyage to the Last Frontier that will include calls in remote areas that most cruise ships never visit.
The Alaska Arctic Circle Solstice voyage, as Holland America calls it, will be 28 nights long — four times the length of the typical Alaska sailing — and include stops in more than a dozen ports.
For more cruise news, guides and tips, sign up for TPG's cruise newsletter.
Kicking off in Seattle on June 9, 2024, it will also include a passage through the Bering Strait into the Arctic Ocean that will be timed for the summer solstice — the longest day of the year.
The timing will result in 24 hours of daylight, as the ship will be sailing above the Arctic Circle.
The trip is unlike anything the line has ever done before. It will take place on the 1,964-passenger Westerdam, one of six ships that Holland America plans to deploy to the Alaska market for the summer of 2024. It'll be a departure from Westerdam's normal schedule of seven-night Alaska sailings out of Seattle.
In addition to a passage through the Bering Strait to the Arctic Circle, the 28-night voyage will include a rare call at Nome, one of the northernmost settlements in the United States. Home to fewer than 4,000 people, it's perhaps best known as the finish line for the Iditarod Trail Sled Dog Race. It's also known for its proximity to Russia, which is just a few hundred miles to the west.
Related: The 5 best destinations you can visit on a Holland America ship
Sign up for our daily newsletter
Other unusual stops include the remote settlement of Dutch Harbor in the Aleutian Islands. Known as the largest fisheries port in the U.S. by volume of fish caught, it has been made famous in recent years as the setting for the Discovery Channel reality television series "Deadliest Catch."
In addition, Westerdam will sail into Cook Inlet for an overnight call at Anchorage, Alaska's biggest town. Few ships on Alaska cruises ever visit Anchorage due to the distance of travel required to reach it through Cook Inlet.
HOLLAND AMERICA
The remote town of Kodiak, Alaska, on Kodiak Island, is also on the itinerary. The island is particularly known for its large population of Kodiak bears — the largest subspecies of brown bears.
Other stops in Alaska will include Skagway, Homer, Juneau, Ketchikan, Seward, Sitka, Valdez and Wrangell. The voyage also will bring a visit to Prince Rupert in Canada.
The sailing will include scenic cruising in Glacier Bay National Park as well as at Tracy Arm, College Fjord, Prince William Sound and Hubbard Glacier — all known for their spectacular Alaskan scenery.
Related: TPG's ultimate guide to Alaska cruise itineraries
Holland America announced the new itinerary Tuesday to coincide with Alaska statehood day celebrations.
The itinerary announcement comes as Holland America is in the midst of adding more long itineraries to its schedule. Always known for a wider mix of longer, more destination-intensive itineraries than many of its competitors, Holland America is doubling down on longer itineraries as a focus for the coming year and beyond.
In addition to the new 28-night cruise to Alaska, the line announced it would offer two 14-night sailings to the state in 2024 — its first such sailings in five years.
Like the 28-night itinerary, the sailings will bring rare visits to Anchorage as well as Kodiak, Homer, Valdez and a mix of other more traditional Alaska ports such as Juneau, Ketchikan and Skagway.
Related: The 4 types of Holland America ships, explained
In an exclusive interview with The Points Guy in advance of the announcement, Holland America chief commercial officer Beth Bodensteiner said the new 28-night Alaska itinerary was something she hoped the line could do every year in the future.
"It's a great way to offer something unique and have us ... kind of step out of the mainstream for a few weeks," Bodensteiner said, adding that the itinerary offered the chance to "cross something off your bucket list."
Related: The 6 coolest things to do on an Alaska cruise
Bodensteiner said Holland America's itinerary planning team worked hard to build the itinerary around getting passengers into the Arctic Circle right at the summer solstice, offering a rare chance to see a day without a sunset.
"That timing is a great example [of] how talented our itinerary planning team is, that they think of that kind of thing," she said. "That's sort of what they started on. They [said,] wouldn't it be great to be this far north for summer solstice? And then they back into" planning for the rest of the itinerary.
Fares for the new 28-night itinerary start at $4,259 per person, not including taxes and fees of up to $645.
Planning a cruise? Start with these stories:
The 5 most desirable cabin locations on any cruise ship
The 8 worst cabin locations on any cruise ship
A quick guide to the most popular cruise lines
21 tips and tricks that will make your cruise go smoothly
15 ways cruisers waste money
12 best cruises for people who never want to grow up
What to pack for your first cruise
Editorial disclaimer: Opinions expressed here are the author's alone, not those of any bank, credit card issuer, airline or hotel chain, and have not been reviewed, approved or otherwise endorsed by any of these entities.